SMBC NORTH VOLLEYBALL CLUB - SANTA CLARITA, CA
SMBC Boys Volleyball Club was established in 1982 and is one of the longest running and most historically successful boys volleyball clubs in the country, winning more than fifty medals in national competitions since its inception. SMBC Boys has five distinct locations in Southern California.

SMBC North is located in Santa Clarita, CA.
With its mantra of #BuiltTough and its own exclusive, spacious two-court facility in the heart of Valencia, SMBC North has been successfully serving the Santa Clarita boys volleyball community for several years. Our list of program offerings is extensive and includes Youth and Juniors Programs, Summer Programs, and Off-Season Training Pods, in addition to our boys club travel teams. Our Director is Rick Phillips at rphillips@hartdistrict.org or (661) 713-7701.
Don't miss our Summer Programs lead by 2023 CIF Championship Coach Loy Mueller!!
Use the button below to register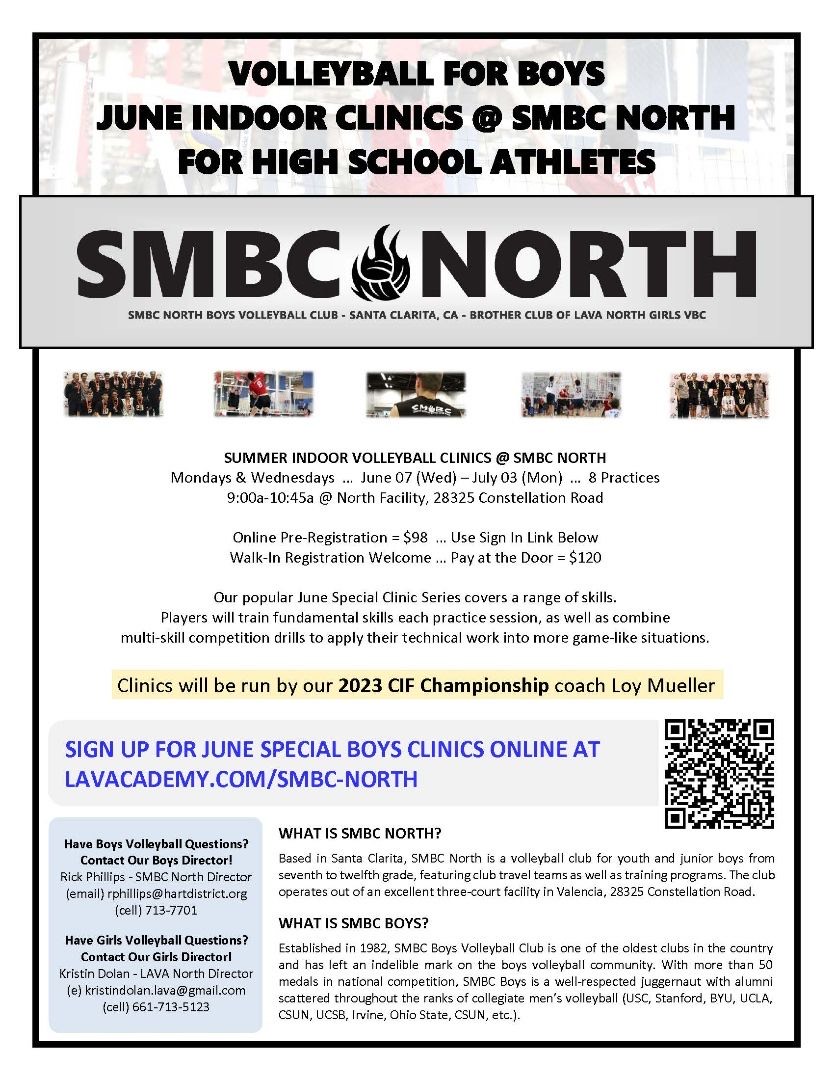 Youth & Juniors Program @ SMBC NORTH
Skills Development and Games
Youth Programs for 4th-6th Graders
Juniors Programs for 7th-9th Graders
Multi-Week, Seasonal Sessions

PRE-TRYOUT CLINICS @ SMBC NORTH
Preparation for Club Tryouts (Sept)
Multiple Stand-Alone Offerings
Mid-August Thru Mid-September
For All Ages

Off-Season Program @ SMBC NORTH
Summer Programs (July/August)
Open Gyms & Pre-Tryout Clinics (Aug/Sept)
Positional Training (February/March)
For 4th-12th Grade Boys
Skill-Specific or Position-Specific
Usually One Day, 75-90 Mins
Multiple Days Offered
Half-Day (2-3 Hours) or
Full-Day (4-5 Hours) Camps
Multiple Weeks Offered

Fixed Group Training
7-12 Players per Group
Multi-Week Sessions

Each Workshop is One Week
2 Days/Week & 75 Mins/Day
Skills Work & Game Play

For 4th-6th Grade Boys
Skill-Building and Fun Games
Multi-Week Sessions

Highly Focused Training
One-Hour Standalone Clinics
High Reps, Highly Technical

FREQUENTLY ASKED QUESTIONS
For more general information on the Programs at SMBC Boys, please refer to the Frequently Asked Question boxes below. Click the text to expand the section for specific answers to each question. You can also contact our Director Rick Phillips at rphillips@hartdistrict.org.