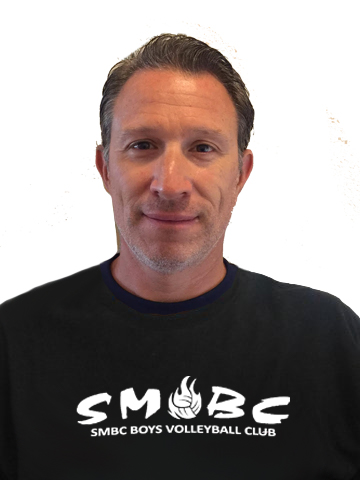 It is not hyperbole nor an understatement to say that Matt Diaz is one of the most respected boys volleyball club figures in all of Southern California, nor is it an understatement to say that the athletes and families of SMBC West are lucky and blessed to have a man of Matt's integrity, character, and coaching acumen as their Director.
An accomplished player and product of the Southern California volleyball pipeline, Matt transitioned from successful athlete in the 80's at University High School, Santa Monica College, and Cal State Northridge to an amazingly successful coach in the 90's and beyond; his first gig as an assistant at his alma mater high school netted two City Championships, and that is just the start.
Matt was Club Director of the famed Pacific Palisades Volleyball Club ("Pali") for 17 years, all the way up to when he helped launch SMBC West. At Pali, his club won ten medals at Junior Nationals (half of them his own teams), and produced a vast number of All-Americans, NCAA Champions, Olympians, AVP beach professionals, and international overseas professionals. He was also a founding member of the coaching staff that built USA Volleyball High Performance, and coached for the program for twelve years ('01-'12).
Matt is a teacher first, in volleyball and in life. Matt has taught middle school for LAUSD for more than twenty years, shaping and molding the minds and bodies of the future leaders of our city. At SMBC West, Matt builds and guides the gentlemen of tomorrow with his hard work today. He values passionate competition, hard work and dedication to craft, playing the game the right way, respecting your opponent, and never comprising integrity; in other words, using volleyball as the vessel by which we teach our athletes to be responsible, contributing young male members of society.
As Director of SMBC West, Matt oversees the entirety of the program from its youth program to the success of its top oldest teams. SMBC West is the premier boys volleyball club of the Conejo Valley and owes much of its success to Matt's stewardship.
Please feel free to contact Matt with any questions about the SMBC West program. His contact information is below and he is eager to speak with you.
Matt Diaz - Director, SMBC West
(email) matthew.diaz@me.com
(cell) 818-395-4495